Press releases
Albert Booth: "One of those principled, socialist rocks that our movement was built on"
19th February 2010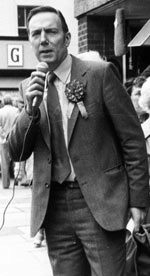 The labour and trade union movement mourns the passing of Albert Booth former Labour Member of Parliament for Barrow-in-Furness and Secretary of State for Employment from 1976 to 1979.
"Albert Booth was a true socialist, devoting his life to the Labour and trade union movement. He demonstrated just what a principled socialist could do as a senior minister in a Labour government in promoting trade union rights and full employment in difficult economic times and when Labour had barely a working parliamentary majority. Albert was one of those principled, socialist rocks that our movement was built on and an example for the present and coming generations to emulate."
John McDonnell MP, Hayes and Harlington & Chair of the Labour Representation Committee.
"Albert Booth was a man of immense courage and was very widely respected in the movement. He campaigned for nuclear disarmament in a constituency that depended on the arms trade and as Secretary of State for Employment he remained true to his commitments. I count him as one of my friends and his death leaves a great gap in the Labour Party".
Tony Benn
"Albert was one of the generation of enormously principled Labour MPs. Representing shipyard workers as MP for Barrow, he still condemned the manufacture of nuclear weapons and was a unilateralist all his life. I first met him in early 1970s when he explained to me how he opposed the Labour Government's 'in place of strike' policy and the need to strengthen and solidify the trade union link with the Party. An industrial socialist and campaigner for world peace."
Jeremy Corbyn MP, Islington North
"Albert Booth was an inspiration. He proved it was possible to be elected as a socialist, opposed to nuclear weapons, in the heartland of the shipyards that built trident. He stands as an object lesson for those who today believe that Labour is only electable on the politics of the middle ground."
Alan Simpson MP, Nottingham South
"Albert Booth was a man of quite unquestionable integrity, unremitting dedication, exemplary diligence, indefatigable socialism and tireless humanity - who never failed to call me "comrade". Would that we were all able to emulate his standards of service to humanity."
Frank Cook MP, Stockton North
"Albert Booth was a good socialist in the period when there was lot of activity on the industrial front. In those days it was a little more difficult to put your head above the parapet but Albert was always leading from the front. I remember him with a great deal of fondness. He served the movement exceptionally well."
Dennis Skinner MP, Bolsover

"Albert was a principled socialist , trade unionist and an unswerving campaigner for peace and nuclear disarmentamment. We need more like him today and for the future"
Kelvin Hopkins MP, Luton North
John McDonnell MP has tabled Early Day Motion 832 Albert Edward Booth:
"That this House mourns the passing of Albert Edward Booth, former Labour Member of Parliament for Barrow-in-Furness and Secretary of State for Employment from 1976 to 1979; pays tribute to his outstanding lifetime contribution to the British labour and trades union movement, as a principled and hardworking socialist; and sends messages of solidarity and condolences to his friends and family at this difficult time."