John McDonnell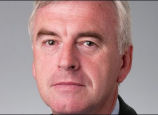 Region: London
Constituency: Hayes & Harlington
Majority: 10847
Nominated John McDonnell for leader: Yes
Voted against Trust Schools: Yes
Voted against 90 days detention: Yes
Voted against Trident replacement: Yes
Voted against restricting abortion rights: Yes
Voted to improve trade union rights: Yes
Voted against welfare cuts: Yes
Member of Socialist Campaign Group: Yes
Contact details:
Campaign HQ: 020 8573 3535
Email: (JavaScript must be enabled to view this email address)
Canvass and leaflet everyday, teams going out at 10.30am, 2pm and 6pm.
Mass Sunday canvasses start at 10.30 am from the Constituency Office in Pump Lane, Hayes, Middlesex, UB3 3NB (see map).
Don't live near enough? Well there is telephone canvassing or you can donate: cheques made out to Hayes and Harlington Constituency Office, address above, addressed to his agent John Holmes.
Website: www.john-mcdonnell.net